Do you feel super moody, irritable, bloated and overwhelmed right before your period arrives every month? ForeverHer guest blogger & holistic health nutrition coach, Katie Bressack  gives us some secret tips to ditch your moodiness once and for all!
So many of the women I talk to feel this way! But after taking a closer look it's usually because they are not eating to support their hormones, and are missing one of the most important minerals in their diet that can help us feel more relaxed and calm.
Magnesium, aka the "anti-stress" mineral, helps your body feel a bit calmer during that time of the month, and pretty much every single day! One of the main reasons you feel like crying and are craving tons of chocolate the week before your period is that the iron and magnesium levels in your body drop, and you feel that shift.
So many of us are deficient in magnesium because when we are stressed (either from work or emotional stress) our body depletes magnesium. In addition, our body loses magnesium stores just from normal daily function such as movement in our muscles and hormone production.
If you are experiencing painful periods every month (or just feel bloated, moody and have cramps) it's time to make some changes to your diet so you can improve how you feel during this time. Adding in more magnesium rich foods can really help support your hormones. I noticed a major shift when I started adding in more magnesium, my sleep improved, and I got rid of that monthly mood swing.
What Are Symptoms of Low Magnesium?
PMS or menstrual cramps
Craving chocolate
Headaches and migraines, especially right before your period
Anxiety, brain fog and mood swings
Constipation, having less than one bowel movement a day
Feeling overwhelmed and wired
Having a hard time falling asleep and waking up in the middle of the night
The Benefits Of Magnesium For Your Hormones
Helps Our Stress Levels!
Magnesium helps to regulate our cortisol aka the stress hormone in our body by helping support our nervous system and prevents our body from creating excess cortisol which in turn helps support all of our hormones
Supports Our Blood Sugar
Yes, I know we talk about this all the time, but supporting our blood sugar levels is crucial for our hormones. Adding in more magnesium can help control insulin production, reduces our sugar cravings and is super helpful for anyone with PCOS
Hormones Are Happier
Magnesium can help improve PMS drastically, especially if you are just getting off birth control and helps in the absorption of Vitamin D
Thyroid Support
Magnesium is vital in the production of thyroid hormones
Sleep
I noticed this right away once I started adding in more magnesium. I take Natural Calmevery night an hour before I go to sleep and my quality of sleep has drastically improved. If you have trouble falling or staying asleep add in this magnesium powder.How To Get More Magnesium
Start with your diet! You can add in dark leafy greens like spinach and Swiss chard, broccoli, raw cacao (real chocolate, check out my raw cacao macaroons and pudding recipes), pumpkin and sesame seeds, almonds, cashews, black and kidney beans, avocados and bananas.
If that still doesn't make a difference I love magnesium supplements which come in a powder or spray form.
Magnesium Supplements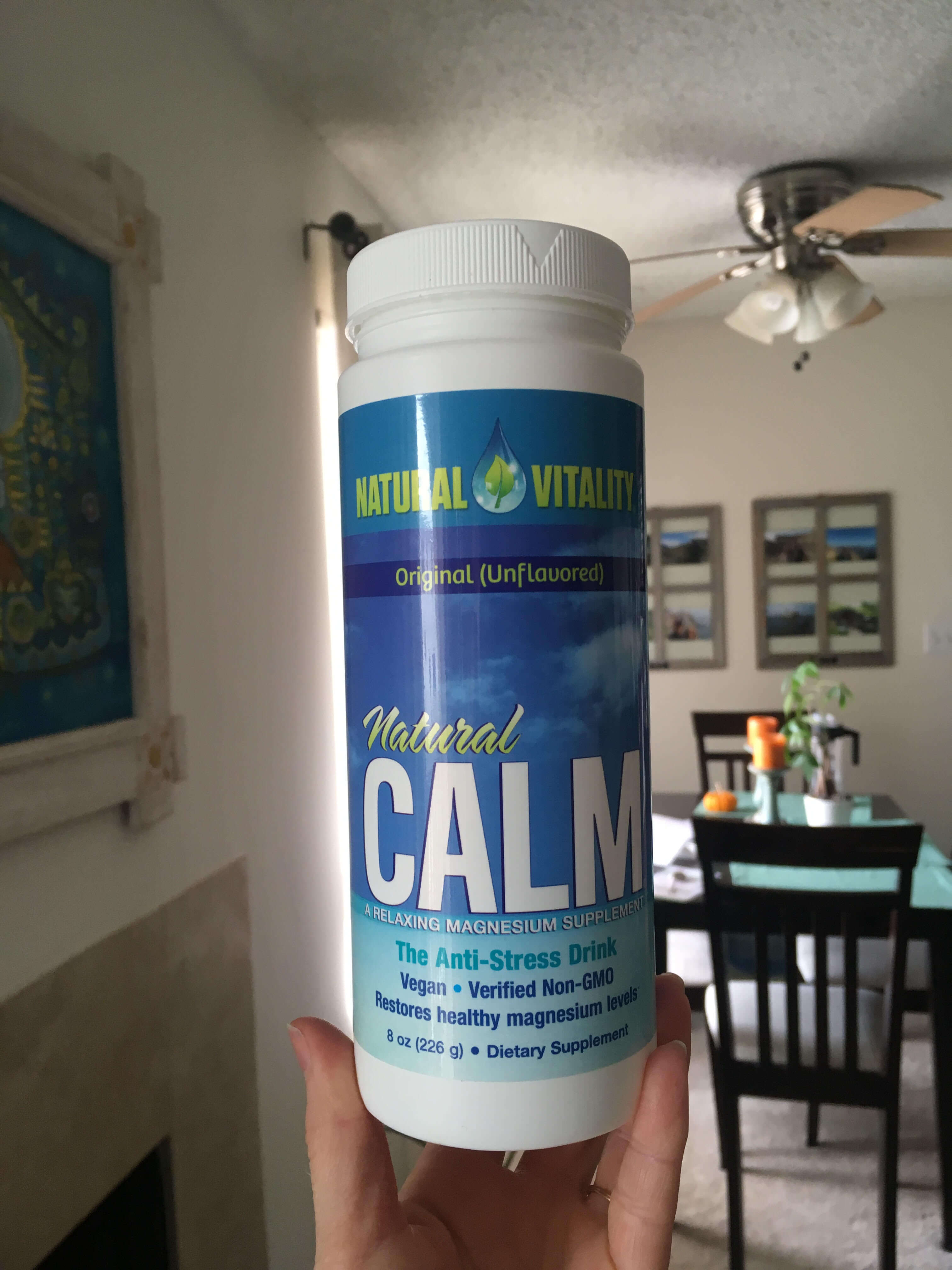 There is a difference between the many types of magnesium supplements. The two that I recommend are Magnesium Glycinate and Magnesium Citrate.
Magnesium Glycinate
Glycine is a well-known calming amino acid. This combination does not have a laxative effect since glycine is actively transported through the intestinal wall. This magnesium spray that you can spray on the bottom of your feet is a good way to get this type of magnesium into your body. I recommend this brand. 
Magnesium Citrate
This is one of the most common used forms. Citrate is very rapidly absorbed in the digestive tract but, it can have a stool loosening effect. I use the Natural Calm powder every evening, I call it my healthy adult shot!
As always, start with your diet. Eating for your hormones is one of the most important steps to take when trying to reduce cramps, mood swings and cravings. By making improvements to your diet you will start to notice your body feeling calmer and more balanced and then we can look at other ways to support your health.
Article by guest blogger Katie Bressack: Katie is a Holistic Health & Hormone Nutrition Expert and Corporate Wellness Coach. Katie is based in Santa Monica, CA.